There are many jokes, memes, and anecdotes that come around during this time every year… and many involve overeating, which has unfortunately become a mainstream aspect of Thanksgiving. We have this societal rule that we only eat certain irresistable foods, like pumpkin pie, stuffing (ironic name), and a whole damn turkey on Thanksgiving, which leads us to want to eat as much of it as possible because we probably won't be eating those foods for another year. When looking at this objectively, it's kind of ridiculous. I understand that food and tradition are closely woven, but when it's affecting our health, I believe there's a bit of wiggle room for positive changes.
Overeating should not be glorified, normalized, or encouraged, especially around people who have experienced or are experiencing disordered eating or eating disorders (yes, there's a difference). Chances are, you know someone who has experienced one of those (including me!). So, I'm here to do something different. I'm here to encourage you to take it easy this year and to listen to what your BODY wants… not what society wants or thinks is normal.
How does one even do Thanksgiving without stuffing themselves?
Intuitive Eating – Tuning into your body's needs and desires, listening to hunger and thirst cues and feeding your body respectively is the key. Eat until you feel satisfied, not because there's still more on your plate, more on the table, or because everyone else is still eating. This is your body, you know what's best for it. If you haven't practiced this before, try now! By this time next week, you'll be better at connecting with your body and understanding its cues.
Crowd out the butter and sugar filled foods with vegetables and fruit – This is a great tactic for ensuring your plate is filled with healthy, colorful foods and simply adorned with the treats. Pile your plate with the vegetables, fruits, and grains first, then add your protein (the size of a deck of cards is the typical serving size for meat), then add any super indulgent dishes in smaller portions. Eat slowly and savor them.
Spread out your meal over the day or week – We've created a Halloweek/end, why not treat Thanksgiving the same way? Cook your favorite Thanksgiving meals, appetizers, and desserts over the course of the next week and enjoy them bit by bit, incorporating them into multiple meals and savoring each one. This would also take the pressure off of cooking a huge feast in one day. Eat consistently throughout Thanksgiving Day, instead of waiting until dinnertime to binge, so that you're nourished all day and won't have the urge to eat too much at night.
Don't punish yourself if you end up overeating – Exercise (or other forms of punishment, you probably know what I'm talking about) should not be used as a way to get rid of guilt or shame around eating. Forgive yourself for going a little overboard and continue on with your beautiful life. It's not worth stressing about. You're not going to gain 10lbs overnight! Go on a light walk after dinner if you want to kickstart digestion and feel a little less full. Tomorrow is a new day where you can make healthy choices.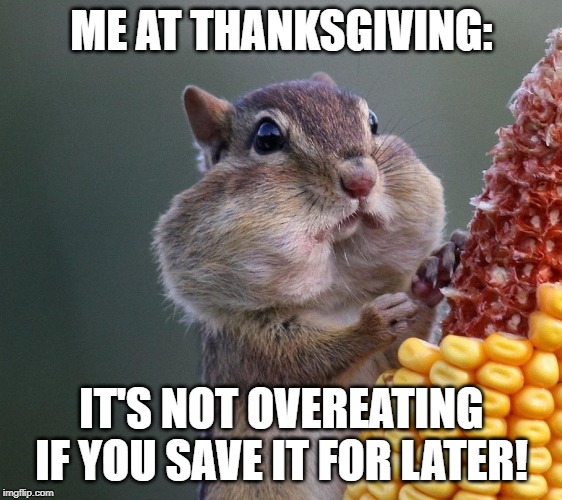 Remember coronavirus? Yeah… I hate to say it but you may want to rethink your traditional Thanksgiving plans if you or your family members are of any risk, as covid-19 is still on the spread and it's getting worse. Consider hosting a Zoom gathering to spend quality time with loved ones or write them gratitude letters, because in the end, that's what we're celebrating. We're celebrating all that we are thankful for. Our health, our abundance, our loved ones… and if we want to banish covid-19, we must socialize responsibly!! Consider getting tested (it's free and more accessible now, especially with asymptomatic people) if you plan on going to a small gathering. Avoid large gatherings AT ALL COSTS. SERIOUSLY!
Pssst! Zoom is getting rid of their 40 minute limit on free calls from midnight E.T. next Thursday (Thanksgiving Day) until 6am Friday. All calls will be free, no matter now long they are! So call up someone you love!
As someone who has overcome disordered eating behaviors, I can say Thanksgiving is not always an easy holiday to celebrate. Especially during a pandemic, all we want is to feel comforted and free to do what we want. That's exactly why I am so passionate about intuitive eating and crowding out unhealthy foods with nourishing foods. These practices allow me to feel comfortable and satiated after eating, while feeling free to eat what I want in the first place. It also takes practice, so don't be too hard on yourself if you 'slip up'. You're only human.
What are you thankful for this year? Although I'm unable to celebrate Thanksgiving with my whole family, like usual, I'm thankful they're healthy and safe. I'm thankful my incredible partner, safe apartment, flexible job, supportive friends and family, the local farmer's markets, my FBB ladyboss squad, and all of you who are reading this right now.
Have a wonderful and safe Thanksgiving!
Love and light,
Kayla
---
Hey there! Like what you're reading? Want access to exclusive content and merchandise? Join the Fem B Fam on Patreon so we can continue to create more of the content you love. See you there!