When I think about where my love for makeup started, I am always led back to the online beauty community.
I really got into makeup when I stumbled upon makeup tutorials on YouTube. Originally my "thing" was doing hair, I was constantly trying new styles and techniques. I also love doing research so I ended up on YouTube to watch hair tutorials. Eventually, I ended up on a makeup tutorial. I'd always had somewhat of an interest in makeup, but I never really wore it much or actively tried to get better at it. This all changed my freshmen year of university when I found YouTube beauty gurus.  All of a sudden, I wanted to be buying the makeup they were using, I wanted to recreate their looks and I wanted to improve. This is definitely where my makeup addiction leads back to.
After two years, I feel like I've really come to have a good bunch of resources and people to interact with about makeup. Today I want to share these resources with you. Keep in mind, this is just what I've found I like and many of the people I follow may not interest you.
My favorite platform is definitely YouTube. Beauty videos on YouTube are basically my Netflix, they're what I watch at the end of the day to unwind.  Here are a few of my favorite YouTubers:
KathleenLights: Kathleen was the first YouTuber I felt "passionately" about. She has stayed relatable and genuine even though she now has nearly 3 million subscribers. She has really nice and simple makeup tutorials that are easy to follow. However, she is not the best at describing products, so if you really want to know the nitty gritty she is not the person.
Mariah Leonard: Mariah has a very informative channel whether it be reviews or makeup tutorials. She is also very calm and easy to listen to.
Cosmobyhaley: Haley got her start on Instagram and then also started creating content on YouTube. She is a professionally trained makeup artist and she has an awesome variety of simple and glam/creative makeup looks. Her videos are great for getting inspired.
Melissa Alatorre: Melissa is another professionally trained makeup artist. She has a wide range of simple and editorial looks. She has a very different style and watching her really helped me expand my abilities when it came to eye shadow. She focuses on teaching so she is a great channel to watch.
emilynoel83: Emily has been on YouTube for something like 7 years now and she is still creating content because she genuinely loves it and you can tell. Her channel is very focused on thorough reviews and I completely trust her recommendations. Her channel is completely unsponsored and that is refreshing.
Jamie Paige: Jamie is a Canadian YouTuber (yay fellow Canadian!) and she also used to be a practicing makeup artist. She is extremely committed to putting out quality content. Her makeup looks are not my personal favorite, but they are still interesting to watch. She also does great tips and reviews.
JkissaMakeup: JKissa is probably the most unique guru I follow. First of all, she does not wear foundations, which I absolutely love. I also do not wear foundation so it is refreshing to see someone else like me. However, because of this her videos are very much about eye shadow. She creates the most beautiful, creative, and colorful looks. Definitely one of my favorites to watch for inspiration.
thataylaa: Taylor is extremely pale with cystic acne and her channel is focused on reviewing foundations. She does tutorials and reviews, but every Friday she reviews a new foundation. She is very calm and monotone, but I enjoy learning about different foundations even though I do not personally wear them.
itslikelymakeup: Jordi is a professional makeup artist based in Canada. Her looks are very creative and colorful similarly to JKissa, but she wears a lot of base makeup. She has a really sweet personality and I enjoy watching her.
Tati: Tati is the olderst guru in the bunch I am recommending. She is in her mid thirties (but has the most beautiful skin). She uploads 5 videos a week (whereas most upload 1-3 times a week) and she is constantly reviewing new products. I always head to her channel when I am curious about a new product launch.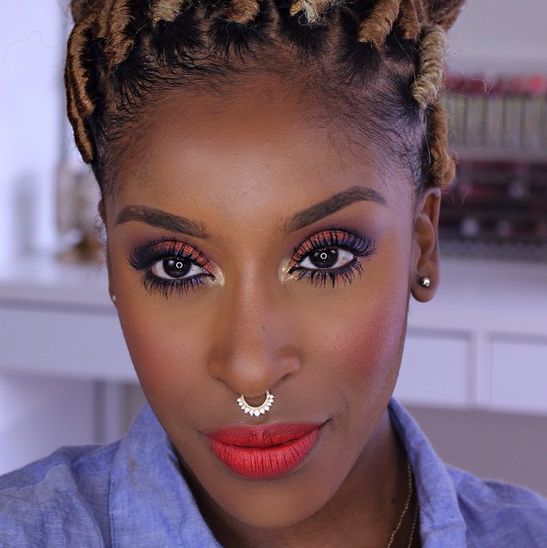 Jackie Aina: Jackie is the newest addition to my subscription box. She is much darker than I am so I watch her channel mostly for entertainment. She has a mix of reviews, tutorials, and hilarious videos. She has a great (funny) personality and I highly recommend her.
Jaclyn Hill: Jaclyn is not someone I am subscribed to as she is really inconsistent in her uploading and I watch her only when I feel like it. She often has some controversy surrounding her. However, she is amazing at teaching makeup. I highly recommend watching videos from 1-3 years ago as this is really where I learned how to do eye shadow. She is an amazing teacher so I recommend checking her out for eye shadow tutorials.
After about a year of watching beauty YouTubers religiously I moved onto browsing Reddit for different beauty discussions. I only browse a couple of subreddits but I really enjoy the ones I follow.
Another great place to get inspiration is Instagram. Unfortunately, I do not have any Instagram recommendations as I do not follow many makeup gurus on Instagram (videos are more my thing) but I'm sure that by looking through your discover you can find amazing ones.
Lastly, I want to recommend checking out Temptalia's website. She constantly reviews different products and even has a grading system and a dupe system. This is a fabulous place to check out if the newest release is worth it or to find a dupe. Love browsing this website for different product recommendations.